Tannoy IW 62TS In-Wall Subwoofer 400W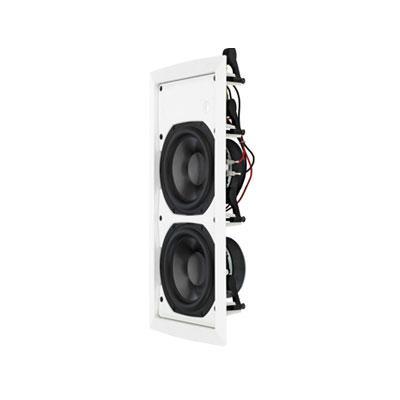 Tannoy IW 62TS In-Wall Subwoofer 400W
Tannoy IW 62TS In-Wall Subwoofer 400W
The Tannoy iw62TS is a high performance in-wall subwoofer. Designed to augment the low frequency output of an in wall system installation. It uses the same construction and mechanical installation method to ensure it is a perfect match, both acoustically and visually, to the full range units.
With a continuous power output rated at 200W RMS, this in-wall subwoofer is capable of delivering impressive results in large residential and commercial applications; such as small entertainment venues, restaurants, bars, public buildings, board rooms, AV installations and business music systems.
The iw62 TS is unique in that it can operate in either passive or active mode, selectable by a switch on the front baffle. In active mode an external controller can be used to manage low frequency extension, the application of equalisation and allowing the crossover point to be tailored to the rest of the system and room. Additionally the iw62 TS will operate in stereo or mono mode; easily converted by means of link wires on the circuit board.
The driver and passive frequency dividing network are mounted in an injection moulded, paintable front baffle manufactured from UV/weather resistant UL94V-0 ABS material.
The excellent structural integrity, when combined with the secure polycarbonate, self-aligning eight clamp mounting system, ensures a performance enhancing rigid acoustic coupling with the wall surface. This provides an immensely stable platform for the drivers to deliver optimum performance.
Robust, gold plated spring loaded terminals enable rapid connection with optimum input signal integrity. Complementing any style of decor, the perforated metal grille and discreet moulded baffle can be painted to blend seamlessly with any install environment. A steel back can is available as an optional accessory.
System Type In-wall subwoofer
Frequency Response - 6dB 29Hz-110Hz passive (determined by controller in active mode)
Low Frequency Alignment - 6dB 29Hz passive (determined by controller in active mode)
Recommended Amplifier Power 100 - 400W
Power Handling Average: 200W
Programme: 400W
Peak: 800W
Sensitivity 2.83 Volts @ 1 metre Half Space: 94dB
Maximum SPL@ 1 metre Average: 117dB
Peak: 123dB
Impedance Stereo: 8 Ohms
Mono: 4 Ohms
Drive Unit
Driver Complement 2 x 165mm (6.50" ) drive units with long throw multi fibre paper pulp cones
Crossover
Crossover Passive 110Hz
Active determined by controller
Construction
Finish White - paintable
Connectors Gold plated spring terminals
Dimensions (H x W) Front Baffle: 473.50 x 227mm (18.68 x 8.94")
Mounting Panel Thickness: 25mm Maximum
Cut-out Dimensions (H x W) 426.1 x 187.6mm (16.78 x 7.39")
Rec. in-wall Mounting Volume 30 litres (1.1 cu.ft.)
Mounting Depth 95.50mm (3.76")
Weight (each) 6.5kg (16.3lbs)
Accessories Pre-installation ring Back can