IMG Stageline PARL - 56DMX/SW LED Spotlights Red,Green And Blue Colours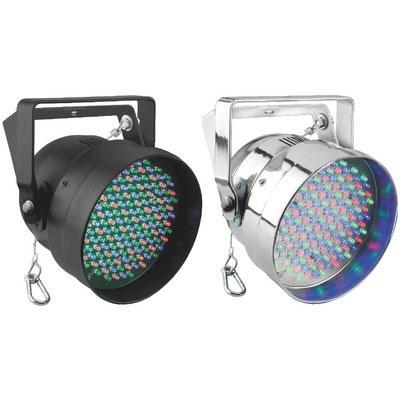 IMG Stageline PARL - 56DMX/SW LED Spotlights Red,Green And Blue Colours
IMG Stageline PARL - 56DMX/SW LED Spotlights Red,Green And Blue Colours
LED Spotlights
3 primary colours (red, green and blue), with colour mixer and dimmer feature via DMX interface. 151 super bright LEDs offer excellent luminous effects for a brilliant vibrant light display.
151 super bright LEDs, 5mm each (beam angle: 30°), for highest luminous efficiency (red: 50, green: 51, blue: 50)
5 DMX control functions: (channel 1: colour mode, channel 2: red and speed, channel 3: green, channel 4: blue, channel 5: music control)
Music-controlled via integrated microphone
Automatic run of programmes with variable speed
Processor-controlled colour change
Long life with low power consumption and low heat generation
Black (SW) or polished (CR) aluminium version with short body and safety rope
Also suitable as a standing spotlight due to 2 movable mounting brackets
0.8m connection cable with earthed plug
Power supply: 230V˜/50Hz/20VA
Dimensions: Ø 190mm x 210mm
Weight: 1.8kg

Tastenwelt 04/2007

"No matter if black or chrome, the PARL-56DMX is always the perfect choice for stage applications. Advantages: high luminous efficiency, nice primary colours and effects, operation also possible without controller, the safety rope is situated directly at the light."