November 2018
Welcome to Cybermarkets November Newsletter. We are gearing up for Christmas and have some great snow machine packages available along with disco lights and mirror balls or why not let Santa treat you to a new sound system, as usual the team are on hand for any advice or help with gifts or christmas display ideas.
We also did a fantastic FAQ video on the snow machines, check it out
Making the news is our anti smoking audio unit which we designed exclusively for Health Care Videos in partnership with the NHS. they approached us about a piece of audio equipment which would give out anti smoking messages in hospitals in an effort to encourage people who ignore no smoking signs to take note and stub out their cigarettes. Featured in the BBC news you can read all about the Cybermarket kit here.
Cybermarket rocking browsers everywhere
May 2018
May we remind you that the end of this glorious month signifies the start of Summer. In typical British weather obsessed style, the team at Cybermarket get very excited when warmth and sun is in sight, our favourite speakers start thumping and the flutter of acoustic bird song rings in our ears. What better way to heat up your senses this month than with our Wharfedale amplifier packages. This is a great 2 zone PA, ideal for restaurants, shops, office spaces, hairdressers and barbers. Combined with either wall mount or ceiling speakers you can create two ambient areas and control the volume accordingly. Check out our mouth-watering packages at this link….sweeter than a larger and lime lolly:
And our video review also features this unique product:
So speaking of Summer we cannot part without shining a light through any clouds on the necessity for some outdoor speakers, guys they are a must, the bbq feeling is just not possible to completely indulge in without some tracks peppering your steak with love, melt into that bake potato with some Yamaha NS-AW194'S high performance outdoor speakers available in Black and white they will add that 'je ne sais quoi' to your coleslaw and the deckchair will become a sanctuary of sound sensations. Smart, smooth, sizzling hot and straight off the grill check out these awesome outdoor pleasures:
Yamaha NS-AW194 Outdoor Speakers
Our video review will give you the low down on their size and features:
Summer is in the post don't blink and miss it. Get Cybermarket savvy and sweeten the earlobes with audio.
Cybermarket rocking browsers everywhere
April 2018
Welcome to the Cybermarket April Newsletter, Spring is finally here, (the daffodils tell us so as they pop their heads up through the last bits of snow). Nestled amongst them could be your very own garden rock speakers, discreet and neat they are perfect for that garden ambience required for BBQ's, parties or even to just accompany your gardening day. Grab a beer, dance off that Easter chocolate and let outdoor audio bring the living room chill to the bird tweeting grill. Watch our review of them here:
Review of the Day - Apart Audio Rock Speakers
This month we bring you images of the popular reality show The Only way is Essex. As an Essex based firm ourselves we were pleased to be able to help out with filming for their Christmas special, the photos have only just dropped into our inbox from the event, (it's very showbiz to be so fashionably late), and what better way to showcase Cybermarket than with our Roof Mountable PA system.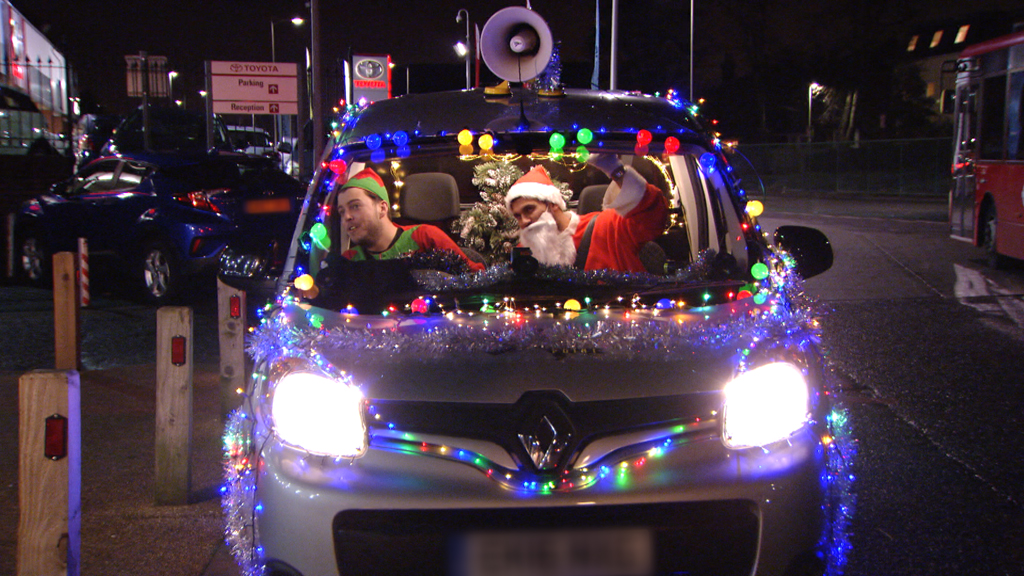 2 x Roof Mountable Horn Speakers With 2 x 50W Stereo Amplifier
New and exciting this month:
Bluetooth Amplifier that can be linked to your Smart Home devices like Amazon Alexa and Google Home.
E-Audio Bluetooth Amplifier 2 x 15W Smart Home Device Compatible
As always our expert team are on hand to help with all your questions, Robert, Laurence, Andy, Adela and Toby are only a phone call away.
Cybermarket ready to put a spring in your step this month
Cybermarket rocking browsers everywhere
March 2018
Welcome to the Cybermarket March newsletter we have finally defrosted after a freezing February and are looking forward to helping warm you up this March with our flash sale - 10% off all products….it doesn't get much toastier than that! Look out for the discount code which will be winging its way over to your inbox by the weekend or catch the code on the banner.
If you've had your eye on that speaker for months or are even missing the snow and fancy a snow machine then our helpful team Robert, Laurence, Andy, Adela and Toby are all on hand to help with putting together your dream application.
New and exciting this month includes our:
Also we are launching our 'Applications' section this month, a tailor made online experience as you will be able to browse through categories such as schools, restaurants, bars and pubs, shops and many more for unique packages to suit all your audio needs. Often the hardest thing about online shopping is putting together what you want, with this new service all the information will be at a click of a button and all at discounted package prices to suit varying budgets. Plus we are always on hand to help.
Cybermarket rocking browsers everywhere
November 2015
To brighten up the impending winter KEF have introduced their new colour finishes for the award winning LS50 speakers to lift both our spirits and eye lines. So away we go from the gloom and doom of a dusky early night and into the rainbow room we reach. Here tunes are turned up and the warmth of the world floods into our living rooms.
The LS50 comes in three new colours, go festive with red and black, beat up those tunes with some black and blue or go hard with a soft edge in titanium and copper. These mini monitor audio speakers bring professional sound into your home, with a smooth and stylish compact design, quality is not sacrificed, velvety sounds bring the studio style to you and your surroundings.

November 2015
Mirror ball season has started in style with high profile clients such as Strictly Come Dancing and Fortnum and Mason upping the glamour stakes. We are looking forward to a glitterati season after the TV Times purchased some gold mirror balls for their front cover edition about Strictly Come Dancing and Elite London Store Fortnum and Mason are lighting up their food hall with their silver balled delights. This adds to our collection of famous mirror ball clientele with Johnny Walker whiskey having acquired 200 of them to float down a Scottish river for their Gold label advertising campaign.