October 2021
The world is finally spinning again and with that in mind we give a big shout out to Tilly Ramsay who is competing in this years Strictly Come Dancing. Her culinary father Gordon is supporting her glitter ball aspirations by lighting up his restaurants with Cybermarket mirror balls, we can't think of a better way to uplift a dancing queen and mark this much anticipated shimmering show.
Don't stop at a glitter ball this year, you have been hiding away for too long to miss out on a snow top up, our machines will ensure this Christmas bubbles over with festive fall, go all out and sprinkle an extra frosty froth on a Christmas to make up for all those missed hugs.
But we can't talk about October without Halloween getting a mention, trickle treating is finally back and so what better way to decorate your house than with a smoke machine, pair it up with an awesome light and make this one a source of good old fashioned scary fun.
November 2020
Christmas is fast approaching but being stuck indoors isn't all bad. You can still watch the snow fall from the comfort of your sofa with a snow machine and whilst doing so why not upgrade your living room ready for Santa's arrival with our range of home cinema and audio equipment, lets face it the new going out is staying in, going out was so overrated anyway….with access to drinks and treats from your own free kitchen, sit back relax and take in those exclusive tunes.
As for the Shard Star ball life doesn't get much better than this, an amazing new disco light great for frequent use, (never ending lockdown means there is a requirement for an everyday disco light), great for the kids, for your own private disco or depending on your tier a party of 6….whatever your level ramp it up in style, stay safe, go wild and always keep it epic.
Keep your eyes peeled for Black Friday deals!
Cybermarket here for you indoors and out.
May/June 2020
Welcome to our May/June Newsletter, we have all spent a lot of time at home over the last few weeks tweaking areas in our homes that we have grown over familiar with, the Cybermarket team have found music a big bonus during these difficult times, calming, inspiring, invigorating, chilling, whatever it is you choose to do in your space music can enhance every mood and experience.
It's the small pleasures in life that we are all getting back in touch with. Whether it be a garden music set up, living room, bathroom, office or bedroom we have a sound system to suit all your needs. Homeschool, get classical, working from home get in the zone, relaxing after a hectic day multitasking then go to the chill out zone, basking in these unusual rays of sunshine the garden can become a sound haven, bathing or showering to wash away the days worries it's music to our ears.
Outdoor ideas, call for more details or ideas.
Rock Speakers With Bluetooth Amplifier
Unable to resume our normal lives just yet, create the life you are used to with the power of sound in your home. Music, a natural way to restore inner peace and serenity.
To add to this experience we are offering you 10% off because we know that a discount also helps with our well being (winking emoji). Use Code CYBER0320 in the basket.
Cybermarket, enjoy the outdoors, enjoy some outdoor sound.
April 2020
With the Government announcement for Lockdown we are operating with skeleton staff. Please bear with us during these trying times. We are still able to answer questions, take phone calls and are still shipping orders, please note there may be a slight delay on shipments due to less staff.
Stay Home, Protect the NHS, Save Lives.
March 2020
We are going green with envy this St Patrick's Day with our new Ibiza lights complete with moving head, turn your party heads with one of these and ensure the life and soul is brought to your living room or event.
Ibiza Light 2-in-1 Warm White Blinder
Ibiza 3-IN-1 Wash-Moon-Strobe Light Effect With DMX
Moving Head Equinox Fusion Spot
2 x Moving Head Equinox Fusion Spot
If Guinness isn't your thing but grime is then check out our basetastic speakers, and if that doesn't create enough of a party storm then the forecourts will, they are back in and ready to roll out in petrol stations and warehouses everywhere.
Cybermarket… cruising along with the sound booming punches.
February 2020
Mr Loverman Cyber…. We are here to get you in the mood for Valentines day, love it or hate it, It's a day for falling in or out of love. Been eyeing up that audio system, Cybermarket will show you the love, fallen out with your speakers, Cybermarket have the latest products to help you move on. We are all about the love here this month so check out our cupid arrows below, they will send you straight to the heart of the website, which is pounding with beats of warmth. We appreciate your visit and we are eager to hear from you, get loved up this month we are with you and here for you.
If your dry January is becoming vegan February and you want to shout about it then get podcasting, it's all the rage, everyone is doing it, get your voice heard, you know you're worth it. Get 'drunk' on a new hobby and take up podcasting… Check out the options below…
Vocal Recording Podcast/Singing Kit
Cybermarket, adoring your loyalty, giving you the respect you deserve. Peace and love man.
January 2020
January is for Jiving!
Happy New Year to all our Cyber surfers, out with the old and in with the new, get purchasing with our 5% off everything January sale, the first month of the year is all about turning up the volume, pumping out those happy beats and embracing 2020. Gift yourself a peachy sound system or lift a loved one with some disco lights. Been thinking about that surround sound system for the last decade, don't delay, with the help of one of our friendly sales team we can put together a banging system with a rosy price tag to match, pack a punch with our Polks, or 'Monitor' your favourite hits with an audio system that says 'I live here'.
Whatever your needs we are here to pump them up, reggae them down, groove to the moves or sway to the sounds, Cyber buddies we salute you, our soldiers are on hand to uplift your ears and enhance your experience.
2020 Never Empty Filled To The Brim With Cybermarket Spin!
December 2019
It's the same snow flake every year but we can't help dropping it into living rooms, pubs, bars, restaurants and gardens alike, the snow machine brings an icy breeze of shimmering topping to all our events and home displays alike, like mulled wine and mince pies, snow and Christmas go hand in hand, don't rely on the wet British weather whilst it freezes out any hopes of a white Christmas, go for one of our amazing snow machine packages instead….
Snow Machine Bundle With Free Blow Up Penguin
Push the penguin out and bring in a boat load of bountiful customers with our free arctic friend who accompanies our…..snow machine packages, everyone loves a waddle into the storm of a Christmas celebration, don't stand alone outside in the cold.
Cybermarket…putting the snow back into Christmas and keeping the penquins pumped up on carols and cinnamon sticks
November 2019
Black Friday Month, get your 10% off your basket with discount code BLACKFRIDAY2019.
Given the whole of your area will be lit up this month and simply 'banging' with the sound of gunpowder it seems rude not to talk about our lighting range. Fireworks always add a shot of joy and colour to our lives just like our Mini Kinta.
Guy Fawkes would be dancing around his bonfire over this one.
And don't forget that Christmas is just around the corner so don't be without your Reindeer and star lights and garden projectors with Christmas themes, as for the snow fluid we are stocked up like a frozen ice mountain here, the warehouse is bulging with flake juice ready to snow up your life, avoid the ice rush and get ordering here:
Snow Machine With 20L Fluid + Free Penguin
Cybermarket…banging the tunes under bright November nights, with a twinkle of Christmas in sight
October 2019
I don't know about you but I've got a shiver down my spine this month, what with all the spooky guys and girls due in town on the 31st, knocking at our doors dressed in scary suits and nightmarish nocturnal numbers, we all need a smoke machine, Halloween projector and an inflatable pumpkin to ensure we are doing their visits justice. Not content with just a trick or treat, light up your house with our range of Halloween delights, worthy of a sugary night on any stretch of the sweet sanctuary.
Our all in one Halloween Party Pack
Garden Projector with Halloween effect and Christmas all rolled into one!
Cybermarket…keeping the eerie in creepy and the weird in the wonderful
April 2019
Welcome to Spring, stepping out this week is our new look Cybermarket product videos, 'What to expect' is the premise and gives viewers a chance to see the essentials in action for a quick fire way of finding out if the product is right for you, online shopping is about matching you with your needs without you having to step out your door, easy browsing and videos that actually show you the size, look and feel of the product so that when it arrives at your door it is what you wanted and fit for purpose.
Featured this month:
The Party Light and Sound portable PA 12", a great looking system with a built in LED light round the speakers, comes with a mic so great for karaoke or kids parties. See here.
The Ibiza astro gobo is equally getting us in the sunshine party mood, 4 gobos with a variety of colours and patterns, sure to waken up any party, dmx or sound controlled options. Check them out here.
And if you really want to get the green light for starting the Summer celebrations early then the Ibiza LED Bar will red, amber green you onto the dance floor sound, dmx, or remote controlled operation, neat and sweet lets get the party started. LED Bar.
Cybermarket rocking browsers everywhere
March 2019
March is still a far cry from the summer but that doesn't mean we can't add some early sunshine and sparkle to our lives, introducing the Silver Mirror Cylinder now available in two sizes, (60cm and 30cm), these are a great alternative to the traditional sphere ball especially if space is a factor. Projecting more of a sparkle effect onto surfaces when a spotlight is directed at the cylinder a retro chandelier result can be achieved and a unique formation of mixed sizes can create the illusion of depth. Use against mirrors in a bar, over a dancefloor or even as mood lighting for your restaurant diners. Perfect for outdoor glamping events on their own, or wedding marquees with a motor, bringing old school glamour to any event these silver snakes will wind their way into everyone's affections. Check out our video to see them in their reflective glory.
Silver Mirror Cylinder Height 30CM
Silver Mirror Cylinder Height 60CM
If the Cylinder style is not to your taste then we have a wide variety of mirror balls in all different sizes for any any event.
Cybermarket rocking browsers everywhere
January/February 2019
New year new you? Don't worry we love you just the way you are, so much so we have introduced our new chat service 'Jivosite' to the website, much more user friendly for you chatty customers, speak to our expert team of 'soundies' Laurence, Rob or Toby anytime between 9-5pm, Monday to Friday, we are finding it a great addition and start to January and are on standby to help with all your enquiries. Alongside this we have also started our new reviews section, not content with smashing Trustpilot with our average 5 star reviews which can still be viewed via the web link, we have decided to spread our love and efficiency with customer satisfaction to reviews.co.uk. Already rocking that too we are very happy with the lovely input we have had from all our wonderful happy customers.
So we hope you have brushed away any January blues and are ready for our February fancies which include Valentine's day, yes that day of the year when you need to tell your loved when how much you love them…(isn't that every day?), treat yourself lovers you've had your eye on it all last year and this is the year to confess your emotions and take out that cash for the monster of all speakers the KEF Muo. It won't answer back like a partner, except in response to your favourite requested tunes, it's sexier than most metallic numbers on the market in 5 shimmering colours, one for every mood… Light silver for the silky smooth tunes in you, Neptune blue for those midnight moods, Storm grey for those sentimental moments, Horizon gold for that disco hour and Sunset orange for those holiday hits. Something for everyone and no strings attached, (wireless), on the move (portable), great stamina, (12 hour battery life), Bluetooth and fancy free and just £149.00… go on you deserve a bit of music loving.
Cybermarket rocking browsers everywhere
November 2018
Welcome to Cybermarkets November Newsletter. We are gearing up for Christmas and have some great snow machine packages available along with disco lights and mirror balls or why not let Santa treat you to a new sound system, as usual the team are on hand for any advice or help with gifts or christmas display ideas.
We also did a fantastic FAQ video on the snow machines, check it out
Making the news is our anti smoking audio unit which we designed exclusively for Health Care Videos in partnership with the NHS. they approached us about a piece of audio equipment which would give out anti smoking messages in hospitals in an effort to encourage people who ignore no smoking signs to take note and stub out their cigarettes. Featured in the BBC news you can read all about the Cybermarket kit here.
Cybermarket rocking browsers everywhere
May 2018
May we remind you that the end of this glorious month signifies the start of Summer. In typical British weather obsessed style, the team at Cybermarket get very excited when warmth and sun is in sight, our favourite speakers start thumping and the flutter of acoustic bird song rings in our ears. What better way to heat up your senses this month than with our Wharfedale amplifier packages. This is a great 2 zone PA, ideal for restaurants, shops, office spaces, hairdressers and barbers. Combined with either wall mount or ceiling speakers you can create two ambient areas and control the volume accordingly. Check out our mouth-watering packages at this link….sweeter than a larger and lime lolly:
And our video review also features this unique product:
So speaking of Summer we cannot part without shining a light through any clouds on the necessity for some outdoor speakers, guys they are a must, the bbq feeling is just not possible to completely indulge in without some tracks peppering your steak with love, melt into that bake potato with some Yamaha NS-AW194'S high performance outdoor speakers available in Black and white they will add that 'je ne sais quoi' to your coleslaw and the deckchair will become a sanctuary of sound sensations. Smart, smooth, sizzling hot and straight off the grill check out these awesome outdoor pleasures:
Yamaha NS-AW194 Outdoor Speakers
Our video review will give you the low down on their size and features:
Summer is in the post don't blink and miss it. Get Cybermarket savvy and sweeten the earlobes with audio.
Cybermarket rocking browsers everywhere
April 2018
Welcome to the Cybermarket April Newsletter, Spring is finally here, (the daffodils tell us so as they pop their heads up through the last bits of snow). Nestled amongst them could be your very own garden rock speakers, discreet and neat they are perfect for that garden ambience required for BBQ's, parties or even to just accompany your gardening day. Grab a beer, dance off that Easter chocolate and let outdoor audio bring the living room chill to the bird tweeting grill. Watch our review of them here:
Review of the Day - Apart Audio Rock Speakers
This month we bring you images of the popular reality show The Only way is Essex. As an Essex based firm ourselves we were pleased to be able to help out with filming for their Christmas special, the photos have only just dropped into our inbox from the event, (it's very showbiz to be so fashionably late), and what better way to showcase Cybermarket than with our Roof Mountable PA system.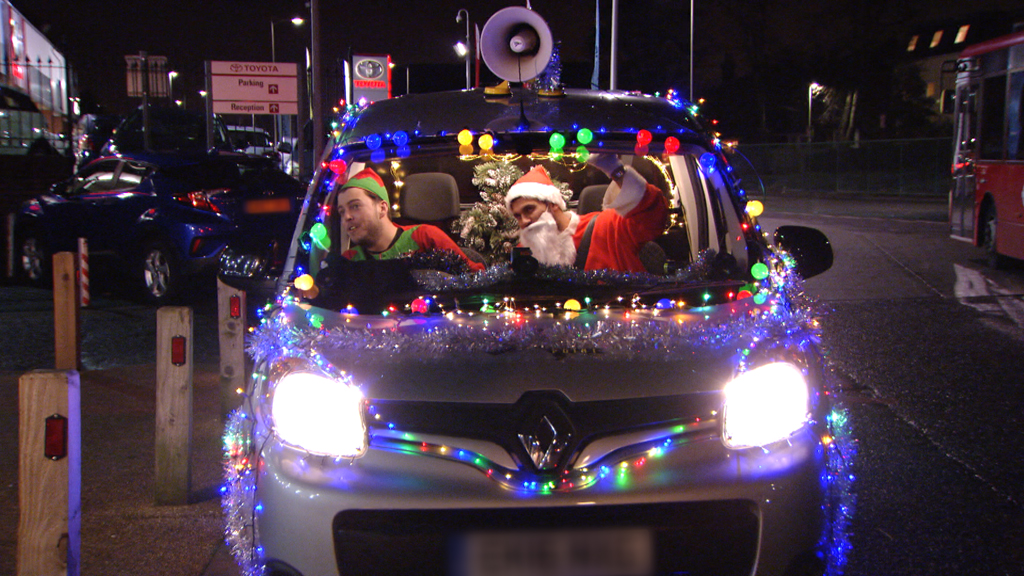 2 x Roof Mountable Horn Speakers With 2 x 50W Stereo Amplifier
New and exciting this month:
Bluetooth Amplifier that can be linked to your Smart Home devices like Amazon Alexa and Google Home.
E-Audio Bluetooth Amplifier 2 x 15W Smart Home Device Compatible
As always our expert team are on hand to help with all your questions, Robert, Laurence, Andy, Adela and Toby are only a phone call away.
Cybermarket ready to put a spring in your step this month
Cybermarket rocking browsers everywhere
March 2018
Welcome to the Cybermarket March newsletter we have finally defrosted after a freezing February and are looking forward to helping warm you up this March with our flash sale - 10% off all products….it doesn't get much toastier than that! Look out for the discount code which will be winging its way over to your inbox by the weekend or catch the code on the banner.
If you've had your eye on that speaker for months or are even missing the snow and fancy a snow machine then our helpful team Robert, Laurence, Andy, Adela and Toby are all on hand to help with putting together your dream application.
New and exciting this month includes our:
Also we are launching our 'Applications' section this month, a tailor made online experience as you will be able to browse through categories such as schools, restaurants, bars and pubs, shops and many more for unique packages to suit all your audio needs. Often the hardest thing about online shopping is putting together what you want, with this new service all the information will be at a click of a button and all at discounted package prices to suit varying budgets. Plus we are always on hand to help.
Cybermarket rocking browsers everywhere
November 2015
To brighten up the impending winter KEF have introduced their new colour finishes for the award winning LS50 speakers to lift both our spirits and eye lines. So away we go from the gloom and doom of a dusky early night and into the rainbow room we reach. Here tunes are turned up and the warmth of the world floods into our living rooms.
The LS50 comes in three new colours, go festive with red and black, beat up those tunes with some black and blue or go hard with a soft edge in titanium and copper. These mini monitor audio speakers bring professional sound into your home, with a smooth and stylish compact design, quality is not sacrificed, velvety sounds bring the studio style to you and your surroundings.

November 2015
Mirror ball season has started in style with high profile clients such as Strictly Come Dancing and Fortnum and Mason upping the glamour stakes. We are looking forward to a glitterati season after the TV Times purchased some gold mirror balls for their front cover edition about Strictly Come Dancing and Elite London Store Fortnum and Mason are lighting up their food hall with their silver balled delights. This adds to our collection of famous mirror ball clientele with Johnny Walker whiskey having acquired 200 of them to float down a Scottish river for their Gold label advertising campaign.